Monterey Facelift Surgery Information
The everyday stresses of life—as well as the effects of age, gravity, and exposure to sunlight—can take a toll on the skin elasticity of the face and neck. Monterey plastic surgeon Dr. Douglas Sunde understands that these unwelcome changes can harm a person's confidence.
"As I was aging, when I looked in the mirror, I no longer felt like I saw myself. After the operation, I feel like I see myself in the mirror again."–Actual Patient
Men and women bothered by signs facial aging may wish to explore their options for facelift surgery. Known as rhytidectomy, a facelift is a surgical procedure to improve signs of aging in the face and neck, such as:
Sagging in the midface
Deep creases below the lower eyelids
Deep creases along the nose extending to the corner of the mouth
Fat that has fallen or is displaced
Loss of muscle tone in the lower face may create jowls
Loose skin and excess fatty deposits under the chin and jaw can make even a person of normal weight appear to have a double chin
A facelift can help restore a youthful appearance and a tonal vibrancy to the face. Dr. Sunde accomplishes these effects by removing excess skin or fat deposits, tightening the underlying muscles. and repositioning the skin around the face and neck. Dr. Sunde's facelift patients report increased confidence and a lasting appreciation for their rejuvenated appearance.
"His patients never look 'done' just refreshed and younger." See Verified Patient Reviews
What facelifts won't do:
As a restorative surgery, a properly executed facelift will not change a person's fundamental appearance. It also cannot stop the aging process.
Is it right for me?
A true facelift can only be performed surgically; non-surgical rejuvenation treatments cannot achieve the same results, but may help delay the time at which a facelift becomes appropriate or complement the results of surgery. Facelift surgery is a highly individualized procedure. You should do it for yourself-not to fulfill someone else's desires to to try to fit any ideal image.
Facelift surgery is a good option for men or women who are:
Physically healthy
Non-smokers
Unhappy with effects of facial aging
Realistic in their goals for improving their appearance
Rejuvenation procedures typically performed in conjunction with a facelift are brow lift, to correct a sagging or deeply furrowed brow, and eyelid surgery to rejuvenate aging eyes.
The Sunde Facelift Grid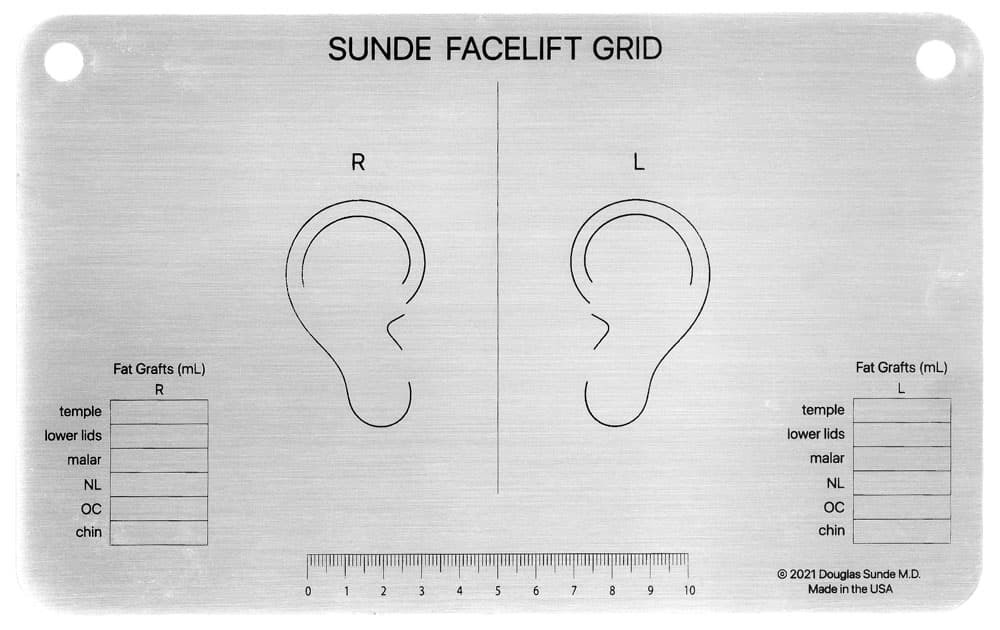 Dr. Sunde works with careful precision to ensure the most symmetrical, natural-looking results possible, using his patented Sunde Facelift Grid. He first designed the Sunde Blepehroplasty Grid in the early 1990's. It has now become a standard part of many plastic surgeons' practice. With this new grid, Dr. Sunde has contributed yet another advancement to the industry, meaning better results for patients.
Schedule a Personal Consultation
We encourage you to schedule a consultation with Dr. Sunde to learn more about which facial rejuvenation options may be fitting for you.